DATA CENTRE INFRASTRUCTURES
ADC is frequently updated with new technology innovations to deal with the several potential bottlenecks such as the expanding power demands, increasing power costs and excessive heat.

We pride ourselves in providing data center infrastructure solution of minimal downtimes and failures, where maximum availability of data center is achieved within specified budget.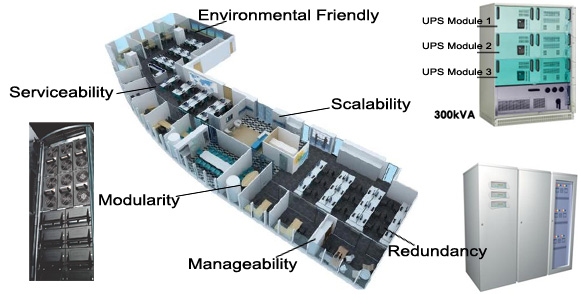 ADC's turnkey solutions to Tier-4 World Class Data Center, Call Center, and High End IT Office Design include:
Power Protection and Distribution... more
Modular and redundant ( N+1 ) Uninterruptible Power Supply System (UPS)
Redundant ( N+1 ) Diesel Power Generator with AMF detection and changeover facilities
Dual Incoming Source and Auto Changeover System
Redundant electrical system S+S or 2(N+1) with no single point of failure
Form 4 full type test Switch board and Fire rated cabling and distribution
Modular and Redundant Fire Retardant Battery Bank System
Active and Passive Harmonics Filter
Lightning and Surge Protection... more
The system covers direct strike protection, surge and transient protection and earthing solutions:
range of lightning air terminals and accessories
surge and transient protection products for power lines, data, communications and signal lines
range of exothermic welding products
earth rods and accessories including earth enhancing compounds.
Fire Detection and Suppression
Modular and Clean Agent Fire Suppression System
Very Early Smoke Detection System
Modular Precision Air Conditioning System
Typical applications:
Computer rooms, digital telephone exchanges, switch rooms, weather stations, medical laboratories, CAT and MR scanners, as well as any other application where a sensible heat load must be dissipated without modifying the relative humidity.
Can be either upflow or downflow, offers a large range of accessories and variations in design, allowing for maximum flexibility in the use of the units
Power and Environmental Monitoring and Management
Water detection and monitoring system
Computer site and Environmental Monitoring system
Power Quality Monitoring System with Digital Power Meter
Network operating room and console station
Raised Flooring System
Network Operating Centre
Meeting Room
Front Office
Server Room
Break out Areas
Back to Top